Information and Communication Technology
Goals
To empower students with self-directed learning and collaborative skills
To provide an ICT supported infrastructure for teaching and learning
The ICT Department seeks to empower teachers and pupils as effective ICT users and to provide a distinctive educational experience through ICT. In support of 21st century competencies, the department also leverages on ICT to create an innovative and vibrant teaching and learning environment where our students are empowered with self-directed learning and collaborative skills, which underpin the goals of the ICT department.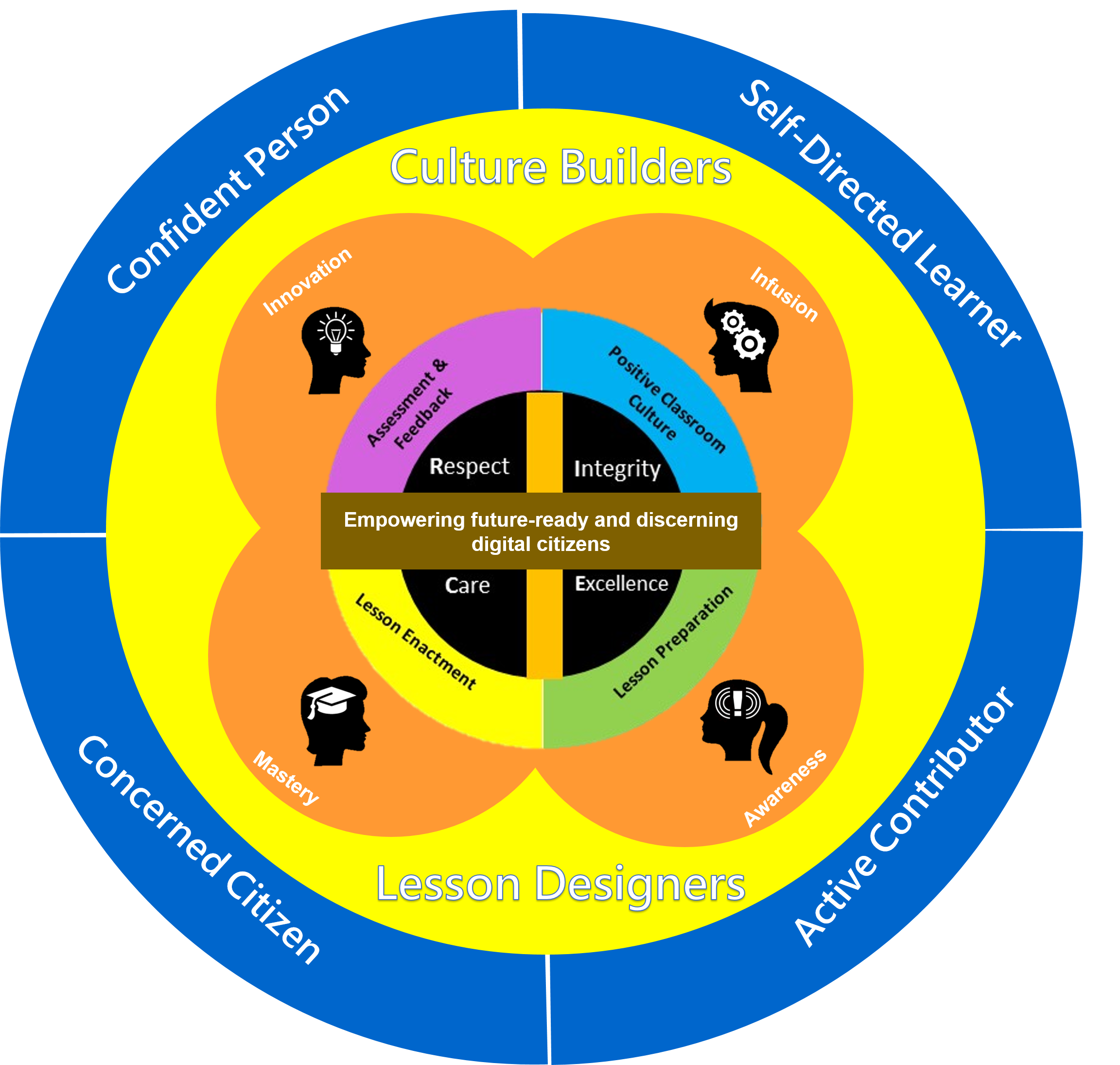 ICT Programmes
Cyber Wellness
Our Cyberwellness programmes and activities aim to educate our students to be responsible and objective netizens when interacting in cyberspace. We also seek to educate our students on the dangers of cyberspace and highlight the negative effects of cyber-gaming and online bullying to our students.
Cyber Wellness Student Ambassadors
Our Cyber Wellness Student Ambassadors (CWSAs) are also known within the school as HPPS Cyber Heroes. Guided by Ministry of Education's Cyber Wellness Framework's third principle – Positive Peer Influence, our Cyber Heroes are role models who actively influence their peers to create a safe and caring online community. They enthusiastically do this during school-wide Cyber Wellness outreach efforts.
By championing Cyber Wellness outreach efforts, our Cyber Heroes are viewed positively by their peers, allowing them to effectively provide peer support where needed. This also amplifies the effect of positive peer influence across the student community.
As peer leaders and role models, the Cyber Heroes gain the respect of their peers and grow from their experiences in leading and serving the student community. Such learning experience has a positive impact on the Cyber Heroes' resilience, self-confidence, self-management and aspirations. When the Cyber Heroes are empowered to be positive influencers and leaders, it contributes to the school culture of positive peer influence.
MRL
Henry Park Primary School Media Resource Library has built up a series of MRL interactive activities for students to participate in so that this will attract more students to come into the library and read more books. Such activities include speed reading in both MT and EL languages, blind date with a book, green screen activities, peek-a-boo activity, etc. We also have new MRL facilities such as colourful mats and MRL TV for students' comfort in reading and students to get more information on library activities. These activities have successfully attracted students to come and participate more in MRL activities as well as encouraged students to borrow more books to read.

Events
Cyber Wellness Bazaar
The Cyber Heroes, facilitated by the Cyber Wellness Coordinators, organised the Cyber Wellness Bazaar 2019 to champion Cyber Wellness outreach efforts.
The theme for Cyber Wellness Bazaar 2019 is 'Building Safe and Meaningful Cyber Relationships'. Grounded in the Cyber Wellness Framework's three principles, 'Respect for Self and Others', 'Safe and Responsible Use' and 'Positive Peer Influence', a wide variety of activities were carried out such as sharing sessions during morning assembly, activity booths during recess, classroom discussions during Cyber Wellness lessons.
This annual Cyber Wellness event aims to spread positive Cyber Wellness messages and equip the student community with the knowledge and skills in navigating the cyberspace and be safe and responsible digital citizens.